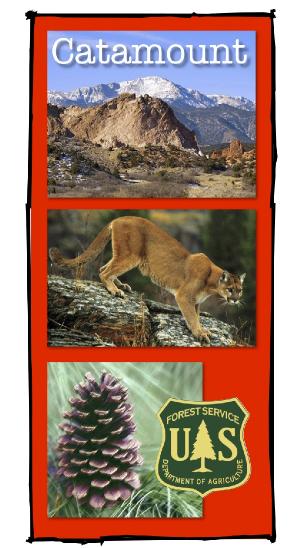 CATAMOUNT FOREST HEALTH &
HAZARDOUS FUELS REDUCTION PROJECT
Project Summary
JW Associates completed an Environmental Assessment (EA) through Healthy Forest Restoration Act (HFRA) authority for the Pikes Peak Ranger District of the Pike National Forest, covering the Pikes Peak area. The Catamount Forest Health and Hazardous Fuels Reduction Project will create more sustainable forest conditions that are more resilient to fire, and insects and diseases, while providing for diverse wildlife habitat, recreational opportunities, sustainable watershed conditions and increased fire fighter safety. The objectives are to restore sustainable forest conditions to reduce fuel for wildfires. The project will also reduce the risk that a wildfire would negatively affect the municipal watershed reserves for the cities of Colorado Springs, Green Mountain Falls, Cascade, Chipita Park and Manitou Springs.
The proposed action is to treat approximately 20,000 acres to restore the montane forest ecosystem towards its historic conditions. The 20,000 acres of treatment contain Ponderosa pine, Limber pine, Douglas fir, Aspen and Oak shrublands.

The project has been completed and included; scoping (including 2 scoping meetings), development and refinement of the proposed action, and issues and alternatives. In addition to writing the EA document, we also managed the drafting and revising of 8 specialist reports, including the Biological Evaluation/Biological Evaluation Assessment. Brad Piehl was the project manager and watershed lead. Jessica Wald was the public involvement lead and writer/editor.
The Decision Notice/Finding of No Significant Impact has been signed and the project is being implemented.